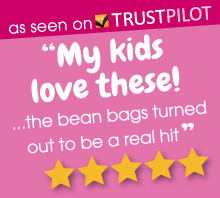 Kids Bean Bags
Our kids bean bags are all about being bright, fun and attractive to children. We have found our childrens bean bags to be extremely popular among kids from toddler age up until the age of 12 years old when they are ready to move on to the next size up.
And why wouldn't they love a bean bag for children? They come in up to 12 different colours which means there will definitely be one to match your childs' bedroom or playroom, they will love to relax on them while reading or playing with their toys.
Kids bean bags come in various shapes and sizes to suit your child's needs as they grow up. We start our range of childrens bean bags with the "My 1st Bean Bag" for toddlers which is suitable for kids from crawling age and is available in various fabrics. Our range of kids bean bags will be suitable for your child from the "My 1st Bean Bag" to the Kids Baz Bag® until they are ready to move on to a larger size.
Our ICON™ range of designer kids bean bags also includes a range of role play bean bags for kids which encourage imaginative play. Your daughter will love to play with their princess dolls while sitting on their Princess Bean Bag and your son will have a great time flipping his toy trucks next to our Cars Garage Scene Bean Bag! Set sail off to pirate island with the Pirate Bean Bag and go on a spending spree with our Shopping Spree Bean Bags for Girls!

Bean bags for kids are perfect for sleepovers and parties as they are hardwearing and great value for money. Child friendly furniture at its best! Most of our childrens bean bags are made from waterproof and wipe clean material, allowing them to be used indoors and outdoors in the garden. They make a great gift that will be treasured for years to come – especially with our guarantee – guaranteed to be "kid-proof!"

Keep your kids entertained for hours on a BeanBagBazaar kids bean bag!

Was £89.99

Now £39.99

Save £50.00

sugar pink

black

red

pink

green

+

yellow

orange

red

pink

lime green

+

Was £34.99

Now £29.99

Save £5.00

sugar pink

red

pink

blue

aqua

+

brown

natural

black

grey

mink

Was £54.99

Now £34.99

Save £20.00

Was £49.99

Now £24.99

Save £25.00

Mega Sale Now On!

Was £25.99

Now £14.99

Save £11.00

Mega Sale Now On!

Was £49.99

Now £24.99

Save £25.00

Mega Sale Now On!