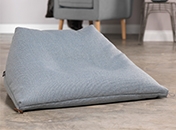 SIMPLY HONEST

The Oscar Origami Pouffe draws its design inspiration from the muted tones and calming style of nature's design. Not only a classic and contemporary home accessory, but this pouffe is also an intelligent and adaptable lounge solution.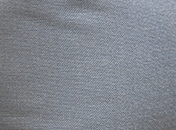 ORGANIC OPULENCE

Made in a textured, woven fabric, the Oscar Origami Pouffe comes in four earthy colour choices. The authentic appeal of this luxury item just keeps on giving with its folded sides that are unfastened to reveal three shapes for flexible living.
BALANCE AND PURITY

Enjoy personal moments of rebalance and reflection using the Oscar Origami Pouffe for comforting support. Sit on top in its fully folded form as a stool, or undo one side to rest against it as a supportive cushion, or release both sides for use as a harmoniously laid-back floor cushion.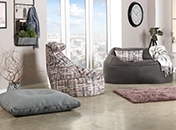 LIGHT NOTES

Layer on cool colours with delicate pattern work and luxe fabrics to create an inviting haven around your Oscar Origami Pouffes. Try matching with the Ostrich Faux Fur Throw or Heather Microplush Jumbo Cord Dome and Midnight Bloom Ted Cushions for a light and airy atmosphere
&nbsp
DIMENSIONS (Unfolded)
Width
100cm
Depth
100cm
Height
20cm
DIMENSIONS (Folded)
Width
60cm
Depth
60cm
Height
50cm
PRODUCT DETAILS
Fabric
100% Polyester
Brand
ICON
Cleaning Instructions
Surface clean only, using mild detergent if necessary.
Do not machine wash
Do not Dry Clean
Do not Iron
Do not Dry Clean
Do not Tumble Dry
Do not Bleach

This product must be stored indoor when not in use.