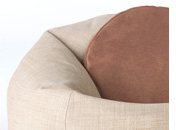 COUNTRY SET
This dynamic seating set is designed for modern living with its bean bag nest and cushion disc offering varied seating positions and uses. Its cottage style is inspired by the Shetland Islands' rural heritage.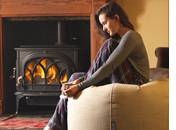 RUSTIC CHARM
The bean bag nest is made in a textured woven fabric for a traditional craft-like look, and the disc is made in soft faux leather that looks and feels real with a worn texture.
LIVE IN THE MOMENT
With the disc placed directly on top you can use this set as an ottoman for sitting on top of, or for resting devices and magazines. If you want to feel cosy, snuggle into the nest placing the disc behind your back as an extra support. Or remove the disc completely to use as a table top for your glass of wine. Whatever the situation, the Shetland Nest and Disc will rise to the occasion.
ORGANIC BLEND
Create a truly organic look and feel to your living space by matching this set with other accessories from our Shetland collection. Or feel welcomed to a cosy cottage vibe by adding Clan Tartan Cushions and Luxury Faux Fur Throws.
DIMENSIONS
Height
70cm
Width
84cm
Depth
84cm
Additional Dimensions
84 x 70 x 84cm
Registered Design Number
5004289
PRODUCT DETAILS (DOME)
Fabric
100% Polyester
Cleaning Instructions
Surface clean only
Do not Wash
Do not Dry Clean
Do not Tumble Dry
Do not Bleach
Do not Iron
PRODUCT DETAILS (SEAT PAD COVER)
Fabric
81% Polyester, 19% Cotton
Cleaning Instructions
Hand wash only. Maximum temperature 40 Degrees Celsius
Dry Flat
Do not Dry Clean
Do not Tumble Dry
Do not Bleach
Do not Iron