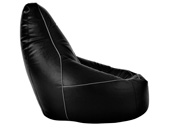 GAMING SPECIALIST


T

he i-eX® Bean Bag Gaming Chair is designed for an enhanced gaming experience with unbeatable comfort and style.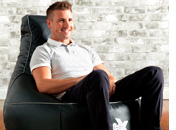 BRITISH ENGINEERING
The British designed i-eX® Bean Bag Gaming Chair is engineered with a reclined high back and bucket seat to create the ultimate gaming positioning.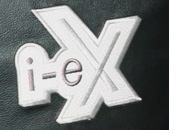 SPORTING STYLE
Made

in high quality faux leather with the i-eX® logo proudly stitched into the fabric and finished with stylish silver piping, the outer shell of this bean bag chair is durable and sporty.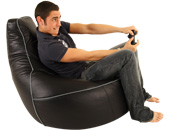 STRONG AND SOFT
Unlike other bean bags the cover of this gaming chair has a panel of foam fixed into the back and seat to create added structure and comfort, giving the feeling of a racing car seat.
Extra Mile Standards
We like to exceed customer expectations so there are a few additional steps in the design process we take as standard that you won't find with other bean bags:
• Double stitched for extra strength • Double zipped for extra security • Zip heads are covered – prevents scratches on floor • Cover and filling complies to UK Furniture Fire Safety Regulations
Approx size:
W85 x D105 x H94 cm
Registered Design Number: 4012492
Customer Reviews
I couldn't recommend this product or the company any higher!
The title of the review says it all!
5 star products, 5 star service with 5 star employees that really care about their customers. For example ordered my product for a Saturday delivery and paid the extra £15, I didn't realise there was a cut off time to get the product for that allocated day and time slot. As I live not to far away I asked if I could collect the product and they simply said no problem gave me a time slot to collect it and the product was ready filled and presented to me in their reception when I arrived. They then said as a curtesy because you picked this up and didn't realise the delivery cut of time. We will REFUND your £15 fee as goodwill. This again was my mistake. I have read only a few reviews giving bad feed back to this company and to those I say.... What a load of Rubbish!
Potential buyers..... I could not rate these guys any higher and I will be returning to order 2 more products for my 2 children very soon.
GREAT JOB GUYS and keep up the 5 star service!
Also feel free to repost this on my behalf on Trust pilot as I don't have a account with them!

Kind regards

Phil ( one very happy BBB Customer )

Excellent purchase Amazing!!

Bought this for my twelve year old son, who is big for his age. It is absolutely perfect, very comfy great back and neck support he loves it, Delivery was first class. Would definitely recommend this above Rocker chairs, even though no sound. My son wears turtle headphones!