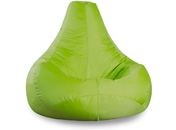 QUIRKY COMFORT
The Gaming Bean Bag Recliner in our Indoor-Outdoor fabric is a vibrant, stylish and comfortable chair with a twist. This fun bean bag chair is perfect for a home office, gaming or the garden.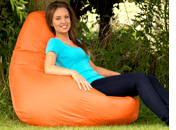 OUTDOOR APPROVED


Take this bright bean bag chair outside! Made in 100% water resistant Aqua-TX fabric, it's the perfect seat at a BBQ, picnic or garden party. Easily wipe clean any spillages and store inside when not in use.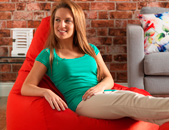 SUPPORTIVE DESIGN


This unique bean bag design features a high back and a deep bucket seat for support and comfort. Sitting into the bean bag creates raised arm rests either side of you, making it the comfiest seat in the house.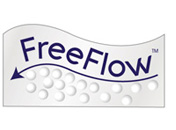 TECHNICAL QUALITY


This high-backed bean bag shape is created with its unique panelled cover. As you sit into the bucket seat some of the FreeFlow bead inside is sent into the tall back creating a bespoke chair shape just for you.
DIMENSIONS
Height
1m
Floor Space Required
1m
PRODUCT DETAILS
Fabric
100% Polyester
Brand
ESSENTIALS
Cleaning Instructions
Surface clean only, using mild detergent if necessary.
Do not machine wash
Do not Dry Clean
Do not Iron
Do not Dry Clean
Do not Tumble Dry
Do not Bleach
Due to the very slight possibility of dye transfer, avoid contact between dark and light coloured textile.
As this is a shaped bean bag, measurements may vary due to the height and weight of the user and their position. The Bean Bag will assume the position shown in the photography when sat in.
Branding on the labels may vary
This product must be stored indoor when not in use
Customer Reviews
Great quality bean bags - ordered the recliner for outdoor and indoor use and they're just so comfortable with a great back support that we ordered two more - one XL and one for indoor use. Fast delivery and straightforward order - couldn't ask for a better service!

from ordering to delivery absolutely fantastic service. would 100% recommend them