ICON® Serenity Connecting Floor Cushions
SKU: CUSHZIP
Availability: In stock
From: £54.99
To: £1,899.64
In Stock
New ICON® Serenity collection
Interlocking modular floor cushions
Water & stain repellent fabric
FREE Standard Delivery*

2-3 working days *UK Mainland

Express Delivery* £9.99

Order before 11am Mon-Fri
We Love the Serenity Collection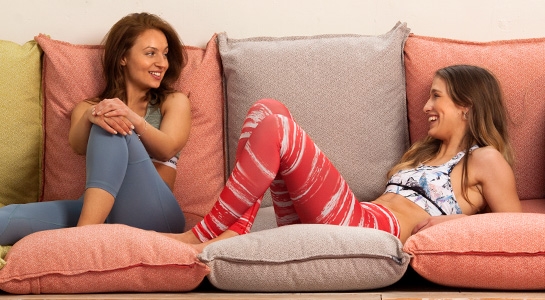 HOMEGROWN HONESTY
Drawing inspiration from the honesty and tranquillity of nature comes the ICON® Serenity design collection. Icon's relentless design team strive to create simple design solutions that fit fluidly into modern living. The Serenity Collection is beautifully handmade with care, right here in Northumberland.
A BESPOKE OASIS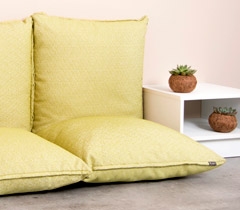 The Serenity Connecting Floor Cushions are a modular, water resistant, easy clean design that can be zipped together to create a bespoke and customisable indoor oasis that can be taken outdoors at a moment's notice. The four nature-inspired colours, are designed to create a multi-coloured mosaic effect. Easily connect the cushions using the zips that feature on all four edges of the cushion.
FLUID OUTDOOR LIVING
The Serenity Connecting Floor Cushions are made in Hydro-Knit fabric giving them a soft woven feel with water and stain repellent properties for an easy-wipe finish. Filled with a heavy density fibre for a springy and supportive texture, these oversized cushions are perfect to create an attic floor lounge space for meditation or a window-side daybed for reading. Easily take outdoors to create a rooftop sun-lounging area to catch the warmth of the summer rays or add to eco pallet seating for deep rooted comfort.
STORE INDOORS, ENJOY OUTDOORS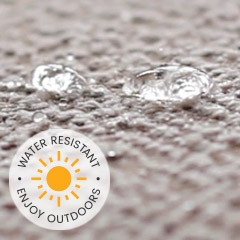 Keep your items looking serene for longer - we advise that the product is dried out and stored indoors when not in use and any spillages are immediately removed to avoid permanent staining. These connecting cushions are perfect for adding padding to pallet seating or the corner of a room for an informal space to relax, however they are not designed to support body weight unaided by a supporting surface. Create varied levels of inviting and relaxing seating in your indoor-outdoor living area with the full Icon Serenity collection.
Handmade with love in Northumberland
DIMENSIONS
Width
66cm
Height
66cm
Depth
18cm
PRODUCT DETAILS
Fabric
100% Polyester
Brand
ICON™
Cleaning Instructions
Immediately remove spillages and liquids with a damp cloth to avoid permanent staining. Surface Clean Only, using mild detergent if necessary.
Do not Wash
Do not Tumble Dry
Do not Dry Clean
Do not Bleach
Always store indoors when not in use